Another month has passed—two full months now—since I told the world I'm not buying anything for an entire year, and it has been another interesting month.
Good news—I still haven't bought anything. No new physical items, at least (I did buy some food and soap this month—more on that in a moment).
Questions
I've received quite a few questions from readers since I announced this resolution. Two questions really stood out to me this month:
Are there any items you've really wanted to buy so far?
Absolutely! I was trained for 29 years to want things and to make impulse purchases. Right now I want a Macbook Air. I can afford it, but I don't need it. My regular, three-year-old Macbook works just fine. And one of my favorite local coffeehouses has some cool Dayton T-shirts I like, but I don't need another T-Shirt.
What if you'd done this prior to paring down your possessions? If you're surrounded by stuff, does that make the desire for more stuff stronger, or does living with few possessions help you not purchase more things?
Getting rid of most of my stuff has helped me appreciate what remains. So, yes, if I lived a more cluttered life, it would've been considerably more difficult. Clutter attracts more clutter; simplicity attracts more simplicity.
Lessons Learned
I've learned a lot from this experiment so far, but a few things stand out:
It's getting easier, and I'm growing more conscious. Last month I wrote about the two most significant lessons I've learned so far: this experiment is easier than I thought, and now I'm more conscious about my physical belongings. This is still the case after another month. Feel free to re-read last month's update for all the details.
I still have too much stuff. One of the most popular essays on this site is Everything I Own: My 288 Things. I wrote that essay to show people that counting your things is not the point. Since then, I've jettisoned quite a few items: this month I donated about 25% of my clothes (I donated about 90% of my clothes in 2010). This experiment has taught me to pare down even more, after getting rid of a bunch of clothes I hadn't worn in a month.
Favorite Things. I have favorite things. We all do, right? A favorite shirt. A favorite pair of jeans. A favorite book. But these things don't define me. Because I am not my things, I am giving away some of my favorite things. I'm giving away my favorite pair of shoes, my favorite pair of jeans, and my favorite shirt (picture below). Why? I have to practice what I preach, and I'm going to prove I don't need my 'favorite things' to live a meaningful life.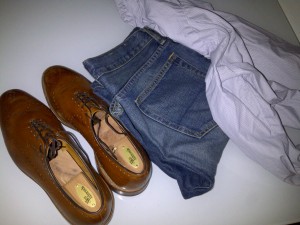 Click here to read my original New Year's Resolution and other updates.