This month, February 2019, The Minimalists Podcast is taking the month off. But we recorded four experimental "Maximal" episodes for The Minimalist Private Podcast, including discussions about happiness and depression, products and branding, and "The Life-Tidying Magic of Gentrification," in which we present our thoughts on Marie Kondo's Tidying Up and, um, gentrification. You can listen to The Minimalists Private Podcast on Patreon.
Don't worry, though! The Minimalists Podcast—the popular, public version you enjoy—will return in March with new episodes, new guests, and a slightly new format. Plus, each week we're going to record an entirely different long-form "Maximal" episode for The Minimalists Private Podcast; these longer episodes will give us the freedom to dive deep into difficult conversations. When you subscribe to our private podcast on Patreon, you'll receive a personal RSS link so it plays in your favorite podcast app. You'll also get access to our entire back catalog of more than 100 private podcast episodes.
Why record our new "Maximal" episodes on Patreon? Two reasons.
First, there are some topics we want to discuss semi-privately in front of a small, compassionate group of people—conversations we'd have only with trusted friends. We want to be able to think out loud in front of a small group of people who are willing to give us the leeway to fail and grow, to change our minds in real time. We need to be able to talk about our flawed habits, our family lives, our struggles, our personal relationships, our emotions, and our insecurities without fear of judgment or public ridicule. We believe Patreon is the best place for us to delve into these sensitive subjects, difficult discussions, and ceaseless shenanigans.
Second, Patreon is the best way for us to fund our podcast and keep it 100% advertisement-free. Because we refuse to clutter our popular podcast with ads, our show is 100% listener-funded—thanks to the small percentage of people who willingly support our show. The money we earn from Patreon allows us to pay for studio space, equipment, a podcast producer, and a filmmaker, and it will eventually allow us to earn some income from the podcast.
Obviously, money is not the primary reason we record our podcast. If it was, we'd just load it with advertisements and rake in significantly more revenue. But, of course, there's nothing wrong with earning money, and we believe the best, most honest way is to give people the option to support our show.
Please note: If you can't afford to become a Patreon subscriber, don't fret—we understand, and we don't expect you to support the show financially. That's why we'll continue to produce meaningful podcasts, essays, videos, and other creations you can enjoy free of charge. And for the few of you who choose to support our work monetarily, thank you. We appreciate it.
—Joshua & Ryan
P.S. Do you enjoy a little drama? Well, we're introducing a new segment: "More About Less." Each week during our "Maximal" episode, we'll read about a current event that ties directly or indirectly to minimalism. We'll then share our opinions, and because we both have different points of view—politically, spiritually, emotionally—we'll debate many of the topics discussed. But best friends are allowed to fight, right?
P.P.S. Here's what patrons are saying about our new private podcast episodes so far: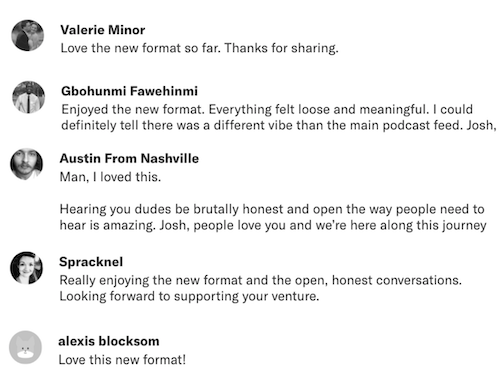 Subscribe to The Minimalists via
email
.