Jeff Sarris & Dave LaTulippe (Founders of SPYR) Brand Development & Design Consultants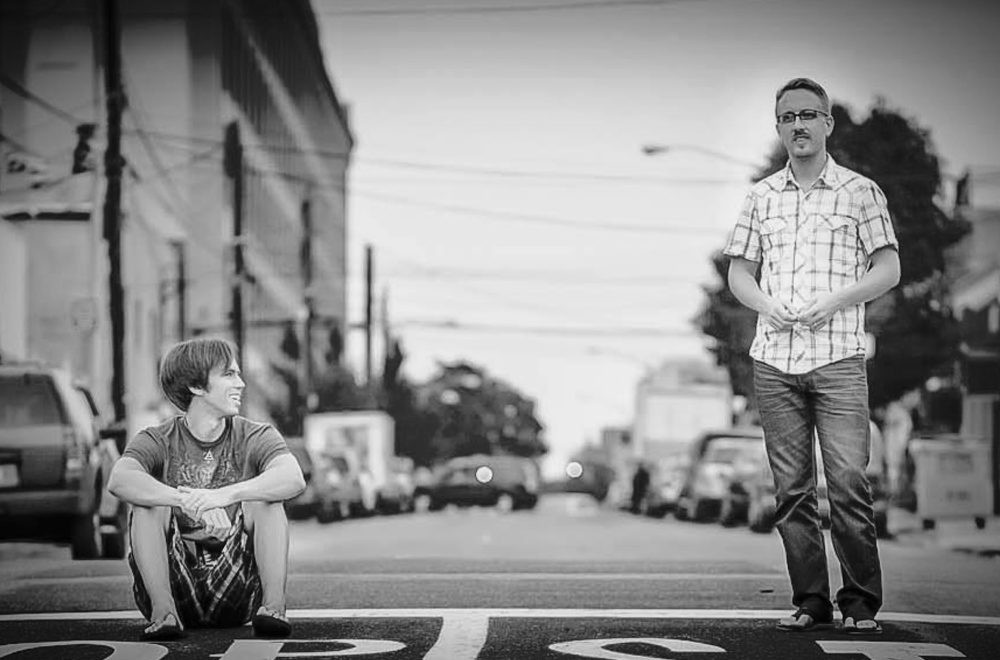 About Dave & Jeff
Do you have a great idea for a new business? A vision that the world needs to hear about? Badass! You're not alone.
Millions of people from all over the globe are launching businesses and sharing great ideas every day. In fact, you can bet many have the same great idea as you. And that's OK. Hell, it's exciting. We're privileged to live in a time when we get to share our vision with the world, form communities around our ideas, and collaborate with peers to grow these ideas. It's unprecedented and awesome.
However, evolving from a person with a great idea to one of authority requires not only action but finesse. You don't spread an idea by yelling loudest (or by standing quietly in the corner). We all judge a book by its cover. It's a cliche for a reason. This is why you strive to deliver your idea, your brand, your packaging better than the rest. You may have avoided sticking out in a crowd as an adolescent, always striving to fit in, but in the crowded internet world, standing out is vital. This is what we specialize in.
Understanding what it takes to capture an audience's attention, to instill trust, to build a relationship with a community, these are the subtleties we deal with and where we can be of greatest value to you.
For 15 years we've worked with countless businesses, entrepreneurs, and artists who understand the importance of a strong message and brand identity. Those who recognized the need to rise above the chatter. The need for a platform.
And by platform we're not talking about just a website. Websites are cheap, anybody can have one and most are useless. What we're talking about is a proper representation of your work and purpose. Spend the time and resources to create this and you'll find yourself at the head of the pack.
We specialize in:
Naming. Yes, naming. It's your first interaction with your audience, the first thing enterprising entrepreneurs think about but, often times, the first fundamental error. Choosing a bad company/domain name is like deciding to climb Everest and packing 50 pounds of shorts and sandals. It does nothing to aide in your journey. So yeah, we make sure you're heading in the right direction with the name. Plus it's one of the things that we just love doing. (Some of our brands include: SPYR, BYLT, Paleo Porn.)
Overall Brand Concept. Developing a brand takes time. Lots of time. And is subject to change. Your brand, your focus, and your direction will all change drastically—and they should!—over the life of your endeavor. But establishing a proper foundation early on is critical.
Content Structuring. Remember how we talked about judging books by their cover? Well, this is a huge part of that. Creating a solid content flow that guides your visitors is an important part of any successful platform.
Design and Development Specifics. Have questions around specific design and development practices? Let's work 'em out.
Testimonials
"SPYR has this amazing ability to take my rough ideas and turn them into something incredible. If you're looking for a team with great communication skills and the ability to translate concepts into reality, go look somewhere else. I want Dave and Jeff all to myself."
—Marie Rippel, All About Learning Press
"I absolutely love the work the SPYR team did for me! This being my first trip to the website rodeo, I came to the table without really knowing what I wanted or how to go about working with a design team—and they still managed to knock it out of the park. From the very beginning it was clear that they were committed to delivering an outstanding experience all around, and they succeeded in spades. SPYR, you guys rock."
—Nikki Beard, Sporadic Nomadic
"Jeff Sarris and Dave LaTulippe are the Mozarts of web design."
—Joshua Fields Millburn, The Minimalists
Pricing
We offer two scheduling options: Single Session or a 4 Session Bundle. All meet via Skype. You will receive an email within one week of payment to schedule your first session:
Availability
Single Sessions can be booked anytime and are typically scheduled 1–2 weeks in advance.
100% Satisfaction Guarantee
We're certain we can help you improve your brand, your business, your life. So certain, in fact, that we offer a 100% satisfaction, money-back guarantee to all of our monthly clients. If we can't help you, we are willing to refund 100% of your money.
Questions?
Email: [email protected]