How do we learn to live confidently without the material things we've convinced ourselves we need? How do we live a more intentional and rewarding life? How do we learn to reset our priorities? How do we transform the way we look at ourselves? How do we get what we want out of life?
The Minimalists explore these questions by examining the seven essential relationships that make us who we are: stuff, truth, self, values, money, creativity, and people. These relationships criss-cross our lives in unexpected ways, providing destructive patterns that frequently repeat themselves, too often left unexamined because we have buried them beneath materialistic clutter.
Our new book, Love People, Use Things, offers the tools to help in the fight against consumerism, clearing the slate to make room for a meaningful life. This is not just a "how-to" book—it's also a "why-to" book. We want you to walk away from every chapter with practical advice for how to minimize, and the compelling stories you've read will give you the leverage you need to remember why change is a must. When you combine the how and the why, you will have a recipe for lasting transformation.
What People Are Saying About Love People, Use Things and The Minimalists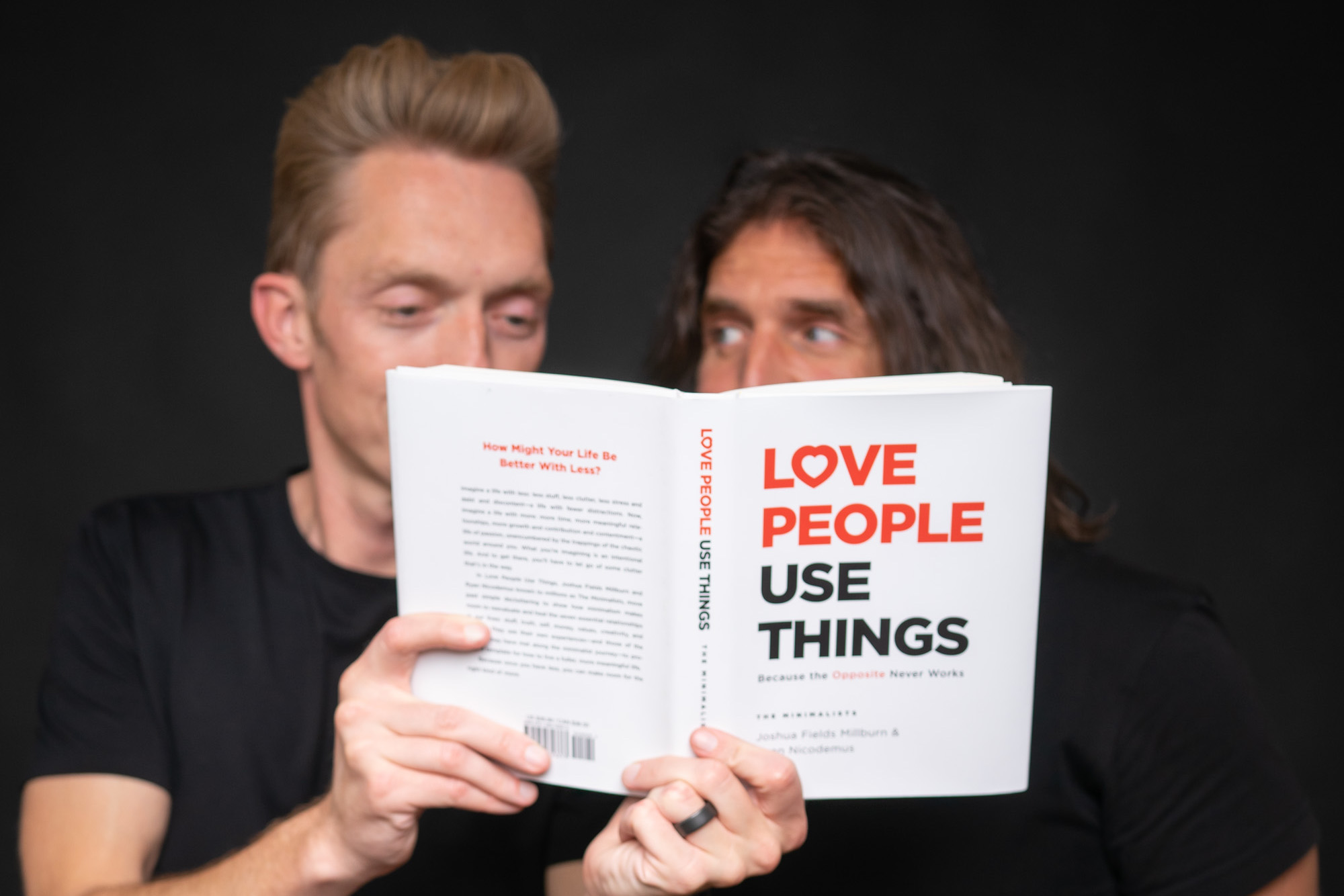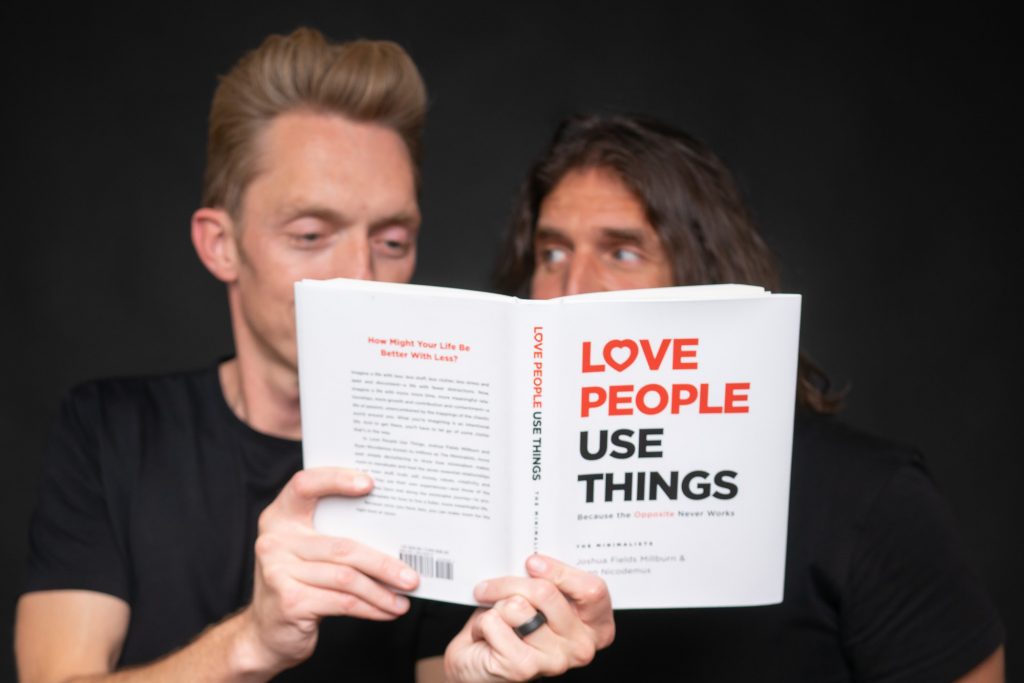 "Sincere prophets of anti-consumerism."
—The New Yorker
"The Minimalists show you how to disconnect from our conditioned material state and reconnect to our true essence: love people and use things. This is not a book about how to live with less, but about how to live more deeply and more fully."
—Jay Shetty, New York Times–bestselling author of Think Like a Monk
"Love People, Use Things is essential reading. The personal stories that led Joshua and Ryan to minimalism resonated with me in a deep way. The Minimalists have added tremendous value to my life."
—Jennette McCurdy, actor, writer, director
"When it's cool to have nothing."
—New York Times
"Joshua and Ryan have penned an urgent manifesto for the growing movement away from the material and toward the meaningful. An important book for our current moment."
—Cal Newport, bestselling author of Digital Minimalism
"The Minimalists speak eloquently about the spiritual, emotional, and financial liberation that can come with shedding your addiction to excess stuff. They are not monks, and they are not living on one grain of rice a day—they are just regular guys who changed their lives by getting rid of a lot of excess stuff."
—Elizabeth Gilbert, bestselling author of Eat, Pray, Love
"The Minimalists show their followers how to streamline their lives to find more happiness."
—Michael Strahan, Good Morning America
"As The Minimalists edited their lives, they learned to strip away the layers to focus on what was most important."
—Architectural Digest
"Longtime friends Joshua Fields Millburn and Ryan Nicodemus are here to open our eyes to how much 'stuff' we have in our homes with a view to encouraging a more minimalist lifestyle that could change everything."
—Glamour
"Ryan Nicodemus and Joshua Fields Millburn [focus] on the positive mental health impact of things like unfollowing superfluous social media accounts, helping your children get organized, and celebrating holidays without excessive consumerism."
—O, The Oprah Magazine
"These guys are rock stars!"
—Dave Ramsey, bestselling author of The Total Money Makeover
"These guys are funny, dogma-free exemplars of a less-is-more lifestyle that actually sounds sane as they explain it." —Pittsburgh Post-Gazette
"[With the] charm of their buddy-act, The Minimalists have become the [minimalist] movement's American ringleaders."
—New York Magazine
"The country's leading evangelists on the virtues of living with less."
—Slate
"The first thing you must know about Joshua Fields Millburn and Ryan Nicodemus is they like to hug."
—Time
"Minimalism is good for the soul."
—Sunset
"A better life by having fewer possessions."
—Seattle Times
"An approach to life that focuses on owning fewer things, while prioritizing spiritual and personal growth."
—The Atlantic
"A farewell to clutter."
—Columbia Tribune
"Helping us end our obsession with stuff."
—LA Weekly
"In a society where we are continually bombarded with messages telling us to consume more and more, The Minimalists make the point that none of this consumption has actually made any of us happier. This is not a new idea even in the West, where Diogenes & Epicurus taught us that the only true road to happiness was to appreciate what we have. Alas, the teachings of Epicureans have been forgotten or distorted and the Eastern traditions, until recently, were alien to the American psyche. Part memoir, part parachute from a world gone mad, Love People, Use Things is a necessary book for our times. Joshua and Ryan urge us to leap off the hedonic treadmill and escape to a simpler, richer, more fulfilling life."
—Adrian McKinty, award-winning author of The Chain
"Letting go of things that get in the way of happiness."
—Arizona Republic
"Living a better life . . . with less stuff."
—National Post
Order Love People, Use Things today.
Subscribe to The Minimalists via
email
.