The Minimalists are coming to a living room near you! Together, we'll talk about healing your relationships with stuff, people, money, and more, followed by a Q&A session with the audience. One night only.
July 13 — Free Worldwide Virtual Event (RSVP)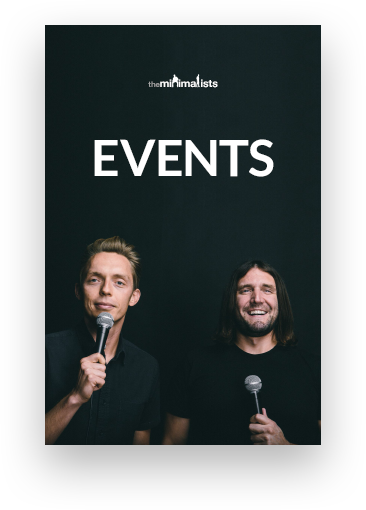 Tour Updates
Upcoming Tour Stops
We will hit the road again very soon. Sign up for our newsletter, and you'll be the first to hear about live events in your city.
Previous Tours 2011 – 2019
Big thanks to the thousands of people who have attended our previous tour stops over the years. You can listen to recordings of our past events. And you can check out our photos from the road:
Questions and Future Events
If you'd like to be notified when we're coming to a city near you, sign up for our email newsletter above or send a message to our private text group. You can also meet open-minded people in your city at one of our minimalist meetup groups at Minimalist.org.
If you want to hire The Minimalists to speak at your event or organization, visit our speaking page for information.
Other questions about our events? Email: [email protected].