UPDATE: Due to COVID, our "Less Coast Tour" has been canceled. Refunds have been issued by the point of purchase. Be safe! We plan on hitting the road again in 2021. Stay tuned via email below.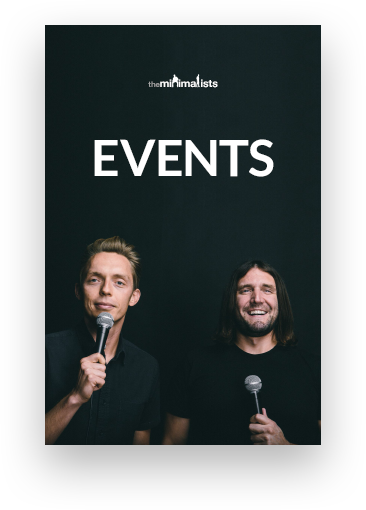 Tour Updates
Upcoming Events
When are The Minimalists coming to your city? Sign up for our email newsletter, and you'll be the first to hear about new events.
Previous Tours 2011 – 2019
Big thanks to the thousands of people who have attended our previous tour stops over the years. You can listen to recordings of our past events. And you can check out our photos from the road:
Questions and Future Events
If you'd like to be notified when we're coming to a city near you, sign up for our email list or send a message to our private text group. In the meantime, meet open-minded people in your city at one of our minimalist meetup groups at Minimalist.org, and follow us on Facebook, Twitter, and Instagram for updates from the road.
If you want to hire The Minimalists to speak at your event or organization, visit our speaking page for information.
Other questions about our events? Email: [email protected].