Experience why it's better to live with less! The Minimalists are simplifying 20 cities this fall/winter. Join us for a minimalism talk, book reading, live podcast, and audience Q&A. Get your tickets now—most of these are smaller venues that will sell out.
Sep 7 — San Antonio (tickets)
Sep 8 — Houston (tickets)
Sep 9 — Dallas (tickets)
Sep 21 — Salt Lake City (tickets)
Sep 22 — Denver (tickets)
Sep 23 — Phoenix (tickets)
Oct 12 — Orlando (tickets)
Oct 13 — Atlanta (tickets)
Oct 14 — Nashville (tickets)
Jan 6 — Washington DC (tickets)
Jan 7 — New York City (tickets)
Jan 8 — Boston (tickets)
Jan 19 — Vancouver (tickets)
Jan 20 — Seattle (tickets)
Jan 21 — San Francisco (tickets)
Jan 22 — Los Angeles (tickets)
Jan 31 — Toronto (tickets)
Feb 2 — Columbus (tickets)
Feb 3 — Chicago (tickets)
Feb 4 — Minneapolis (tickets)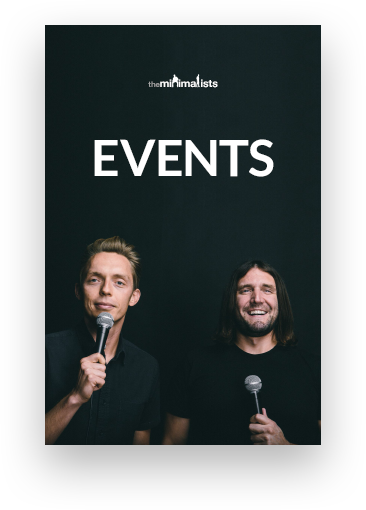 Tour Updates
Upcoming Tour Stops
Sign up for our newsletter, and you'll be the first to hear about live events in your city.
Previous Tours 2011 – 2020
Big thanks to the thousands of people who have attended our live events. You can listen to recordings of past events here and check out photos from the road below:
Questions and Future Events
If you'd like to be notified when we're coming to a city near you, sign up for our email newsletter above or send a message to our private text group. You can also meet open-minded people in your city at one of our minimalist meetup groups at Minimalist.org.
If you want to hire The Minimalists to speak at your event or organization, visit our speaking page for information.
Other questions about our events? Email: [email protected].