The Minimalists will bring a minimalism talk and live podcast to eight cities during the Less Coast Tour. We'll be joined by a special podcast guest in each city, and together we'll discuss how creativity influences every aspect of our lives—from our health and relationships to our work and community. We'll also kick off each show with a special musical guest.
UPDATE: Rescheduled from April to November due to the coronavirus. All previously purchased tickets will be honored.
Nov 18 — Orange County (tickets)
Podcast: Erwin McManus | Music: Rosi Golan
Nov 19 — Vancouver (tickets)
Podcast: Paul Jarvis | Music: Canyon City
Nov 20 — Seattle (tickets)
Podcast: Noah Gundersen | Music: Canyon City
Nov 21 — Portland (tickets)
Podcast: Kevin Rose | Music: Canyon City
Nov 27 — San Francisco (tickets)
Podcast: Matt Nathanson | Music: Matt Nathanson
Nov 28 — Los Angeles (tickets)
Podcast: Eric Weinstein | Music: Lee DeWyze
Nov 29 — San Diego (tickets)
Podcast: Leo Babauta | Music: Raelee Nikole
Nov 30 — Sacramento (tickets)
Podcast: T.K. Coleman | Music: Andy Davis
Ticket options. Regular tickets include seated access to the event. "VIP" tickets include premium seating in the rows reserved closest to the stage, as well as access to the pre-show meet and greet.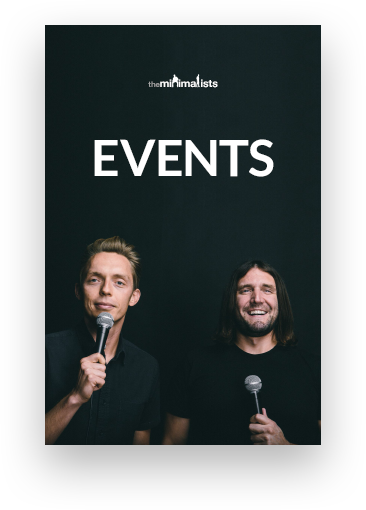 Tour Updates
Upcoming Events
When are The Minimalists coming to your city? Sign up for our email newsletter, and you'll be the first to hear about new events.
Previous Tours 2011 – 2019
Big thanks to the thousands of people who have attended our previous tour stops over the years. You can listen to recordings of our past events. And you can check out our photos from the road:
Questions and Future Events
If you'd like to be notified when we're coming to a city near you, sign up for our email list or send a message to our private text group. In the meantime, meet open-minded people in your city at one of our minimalist meetup groups at Minimalist.org, and follow us on Facebook, Twitter, and Instagram for updates from the road.
If you want to hire The Minimalists to speak at your event or organization, visit our speaking page for information.
Other questions about our events? Email: [email protected].