The Allure of Minimalism in Photographs
Step inside my apartment for a moment. Welcome. I'm glad you could spend a few minutes chez Millburn. Please pardon the mess. Just kidding. Anyhow, walk this way, watch your step, I'll show you around.
People are often intrigued by my living space, or rather by the idea of my living space, wondering what it looks like, how a minimalist really lives, often posing all sorts of voyeuristic questions: How many things do you own? What does your livingroom look like? Do you sleep on the floor?
But that's okay—I understand the allure. When I first approached minimalism, lingering trepidatiously at its pristine white perimeter, I too wanted to see the material changes in people's lives; I wanted to peek into their worlds to see whether minimalism was possible and to see if it was something I desired. Even then, I knew minimalism wasn't ideal for everyone. After all, I didn't want to be a monk, I didn't want to live out of a bag and travel the world, and I certainly didn't want to get rid of all my stuff and sulk in an empty apartment. Could I be happy as a minimalist?
When Ryan and I first started this website, I counted my things as a parody, showcasing the fact that I didn't have the desire to be as extreme as some minimalists. In that essay you can see a picture of my beautiful loft apartment in downtown Dayton, Ohio, a capacious living space with hardwood floors and high ceilings, wide open and airy from brick wall to brick wall. It was not unlike something you'd see in a magazine (actually, it was featured in a couple magazines).
When I left my corporate job, however, I decided to downsize; I decided to reduce my expenses so I could afford to live my dream. So I moved into a small, one-bedroom apartment, not too far from the picturesque old loft.
At first, I wondered whether I could be as happy with my new apartment. Although the new place was clean, and it had wood floors and brick walls, it didn't have the same "sexy" allure the loft had. Even the word "loft" sounds sexy, doesn't it? Could I be content with this change? I wasn't sure.
Fast-forward a year and, truth be told, I enjoy my new, smaller apartment more than my old loft—a feat I thought impossible a year ago. The elegance of minimalism transferred seamlessly to my new dwelling. Plus, my new apartment is brighter during the day, it's quieter when I want to write, it's located in a nicer neighborhood with 19th-Century brick homes and tree-lined streets and a beautiful park, and it's closer to my favorite coffee shop and restaurants. Oh, and at $500 a month, it's considerably less expensive than the loft.
Recently, a Norwegian magazine commissioned my friend, photographer Adam Dressler, to take a few photographs of my apartment for their organ. Below are some of the photos from that shoot (if you're curious). Feel free to have a look around.
Photos of a Minimalist's Apartment
(Click any picture to enlarge it.)
Entryway
The first thing you'll notice when you walk inside the apartment is its small entryway (if the apartment was larger, you might call it a foyer), containing a wall-mounted coatrack that holds a jacket, an umbrella, and a wool hat (courtesy of She Makes Hats). And just ahead, you'll find a red chair:
Walk up a flight of stairs (I'm not always perched on the bottom step laughing), and at the top of the steps you'll see a small table topped with a bowl containing a few of the personal effects I take along on my daily walks (headphones, notebook, pen, etc.). There's also an unplugged red phone occupying the bottom shelf, a phone that represents my personal unplugging from the telecom industry (where I spent 12 years). Above this stand hangs a leather coat on the wall, a piece of clothing that's also (accidentally) a piece of artwork when I'm not wearing it.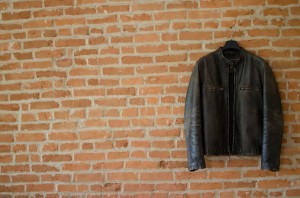 Living/Dining Area & Kitchen
From there, the majority of the apartment—dining/living area, kitchen, reading nook—are all contained in one bright, open space.
My dining table comfortably seats six (yes, I have the silverware to feed six, too):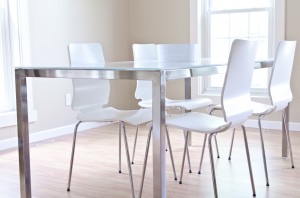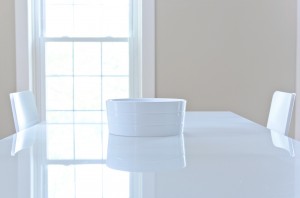 It's also a great place to work with a friend: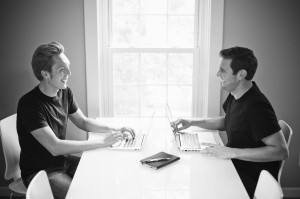 Near the dining table sits a tiny reading nook in which I spend many hours, though I'm typically not gazing out the window contemplatively (pictured), although I do do that from time to time:
Whenever I want to "think without thinking," as the main character does in my novel, As a Decade Fades, I pick up the guitar a play a few chords, searching the room's empty spaces for euphony (I'm a surprisingly bad guitar player):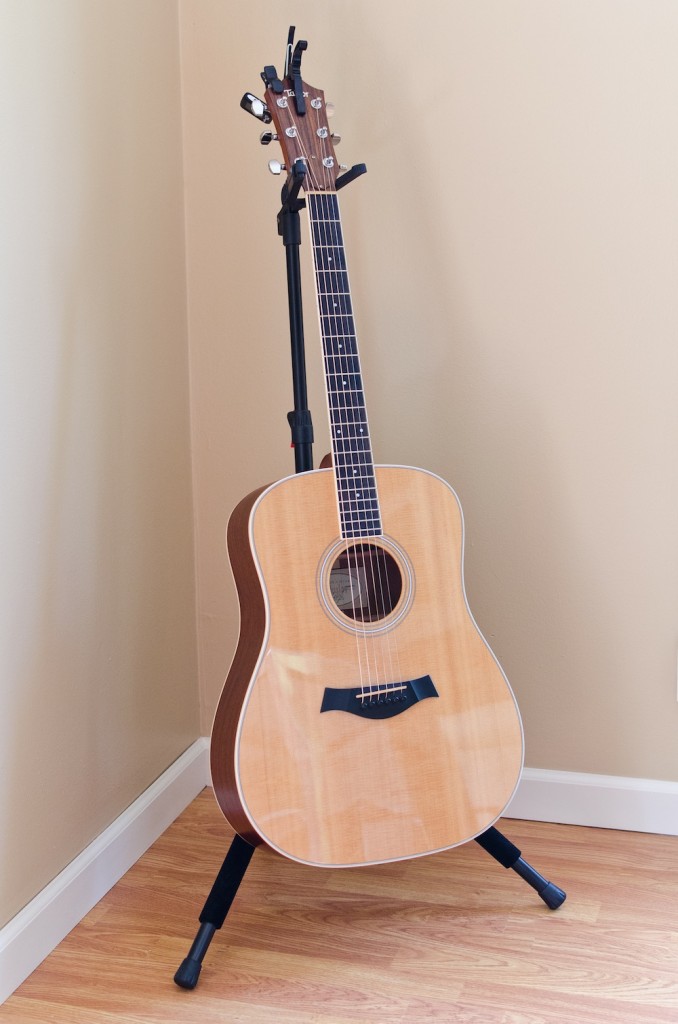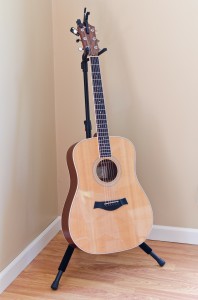 Between the dining area and the kitchen, sits a dividing wall/bar that serves as a casual eating surface: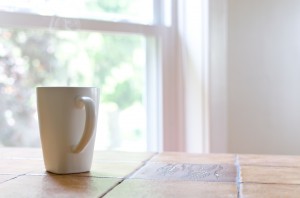 After getting rid of 2,000 books, only a few remain. Where some people might shelve their cookbooks in the kitchen, I stack my writing books, a few of which are required reading in the online writing class I teach: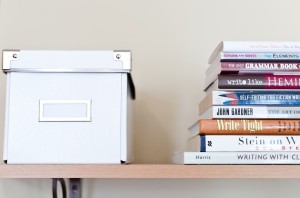 The kitchen cabinets hide everything unsightly from plain view, especially my wide assortment of herbal teas, not to mention the dish soap and (tucked away in the back) a nearly magical masticating juicer: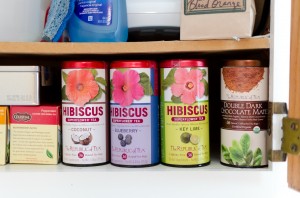 Bedroom & Writing Space
A small hallway leads you to the bedroom, in which of course you'll find a bed, as well as a nearby writing space, which allows me to roll out of bed at 3:30 a.m. and write: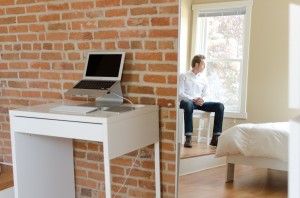 The nightstand next to the bed bears a duet of candles and a phone charger that doubles as an alarm clock—my only clock, in fact: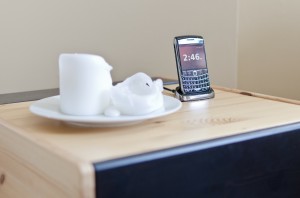 The nearby dresser supports a lamp, a candle, and an extremely complex stereo system (iPod doc). And its drawers even accommodate a handful of teeshirts: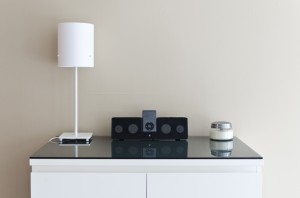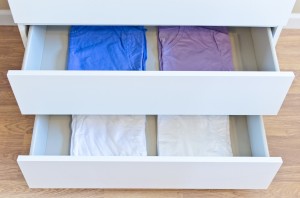 Bedroom Closet
The bedroom closet carries the rest of my clothes and a few iron weights for my 18 minutes of daily exercise: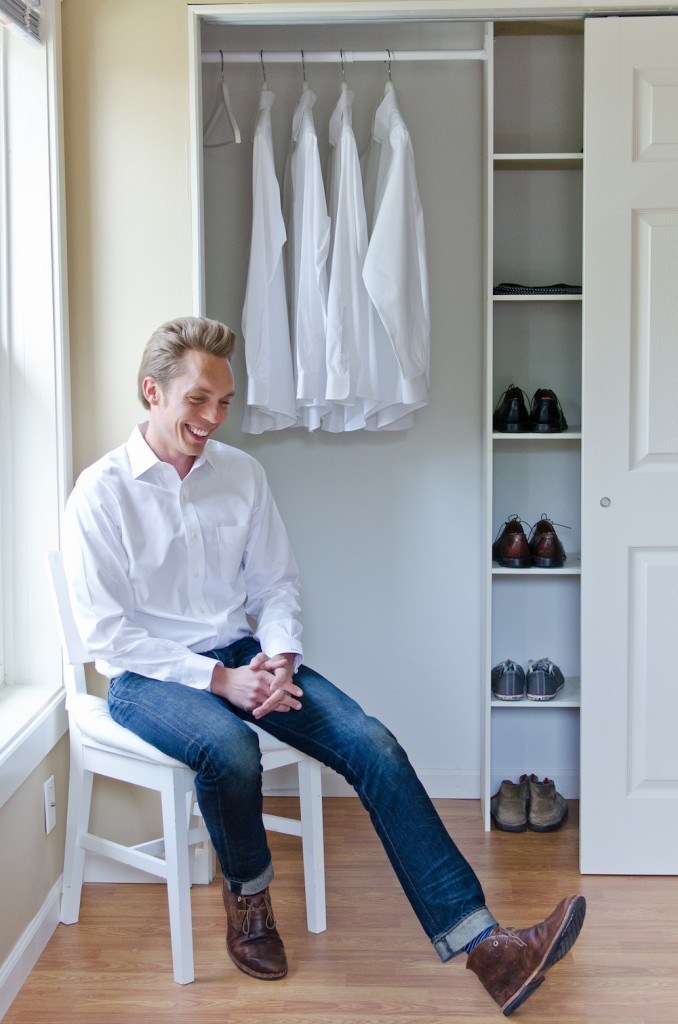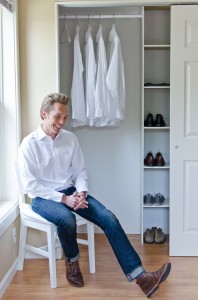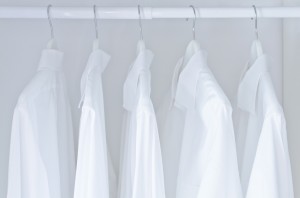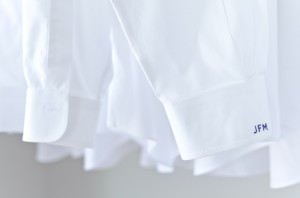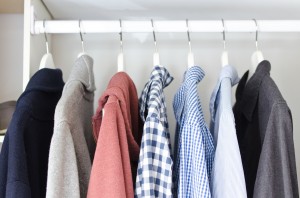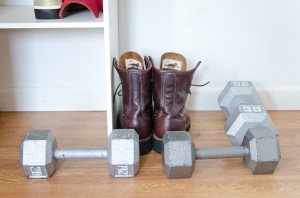 On Your Way Out
Oh, you have to go? Bummer! Well, before you make your way down the stairs, you can peek inside the bathroom and get a glimpse of the the guest towels:
The Benefits of My Minimalist Lifestyle
Clearly the above pictures don't represent every single item in my apartment, although that is nearly everything. The apartment obviously has a toilet and a fridge and a shower. I also display digitally framed pictures on a shelf next to the writing books; cleaning supplies are lined neatly in a hallway closet next to an iron and ironing board; and even a washer and dryer are tucked away behind a sliding door in the bedroom. Plus I own other things not pictured, like, say, for example, a car and a single suit and a drawer of socks and underwear and a travel bag.
That said, my needs will change in time, and thus what I own will change, but I'll continue to embrace minimalism as a way of living because the benefits are astounding (namely: intentional living, personal freedom, deeper awareness, better health, improved relationships, individual growth, and meaningful contribution).
There are plenty of fringe benefits from living my minimalist lifestyle, too, many of which I never anticipated. For example, I used to spend eight hours at a time cleaning my big, three-bedroom suburban house, vacuuming and mopping the floors, dusting every surface and knickknack; but my current apartment takes less than 45 minutes to clean, including mopping and scrubbing the bathroom. I didn't have to "tidy up" before Adam took these photographs. Seriously. This is what my place looks like every day.
I remember the old days when I'd spend an entire weekend organizing junk, separating miscellanea into various organizing bins, using a complex item-dispersal system to separate my hoard; but now it's easy to remain organized since I don't own much to organize in the first place. Instead, I've discovered that it's much easier to get rid of something than it is to clean or organize it. Empty spaces allow us to focus on ourselves and the people around us—to—find ourselves in spareness—not in the things we're constantly trying to take care of.
The biggest fringe benefit, however, is the calm I feel when I return home. No longer am I worried about the wall-to-wall disorder. No longer am I bothered by the organized chaos. No longer am I discontent with my surroundings. My simple living space is calm, relaxed, serene.
Damn, it feels good to come home.
Update: In the fall of 2012, I moved to a cabin in Montana. Then, until late 2017, I lived in a minimalist home, in Missoula, with my wife, Rebecca, and our daughter, Ella. We now live in a minimalist apartment in Los Angeles.
Subscribe to The Minimalists via
email
.
You May Also Enjoy
How to Start a Successful Blog Today
Learn how to start a blog in less than an hour. Follow the step-by-step instructions we used when starting our blog, which now has reached more than 20 million people. Creating this blog is one of the best decisions Ryan and I ever made. After all, our blog is how we earn a living. More important, it's how we add value to other people's lives. Read more
30-Day Minimalism Game
Let's play a simple game together. We call it the 30-Day Minimalism Game. Find a friend, family member, or coworker who's willing to minimize their stuff with you next month. Read more
11 Ways to Write Better
We are all writers now. Whether you write books, blog posts, emails, Instagram captions, or text messages, you are a writer. No matter your preferred medium, here are a few tips to help you write more effectively. Read more
Subscribe to The Minimalists via
email
.