When it comes to letting go, I wish I could hand you a list of the 100 items you're supposed to own to be a minimalist. But minimalism doesn't work like that. What brings value to my life could very well get in the way of yours. Further, the things that once added value may not continue to add value, so we must constantly question not only the things we acquire but the things we hold on to.
Because minimalism is not an antidote to desire, and because, like most people, Ryan and I still act on impulse, we've created sixteen rules and tactics we use to help stave off the tug of consumerism and get organized—including the No Junk Rule, the Seasonality Rule, and fourteen others—all of which are compiled in our new ebook, Minimalist Rulebook: 16 Rules for Living with Less, which you can download for free below.
How about you? Do you have any minimalism tips or rules you live by? Text me at 937-202-4654 and let me know (yes, that's really my phone number).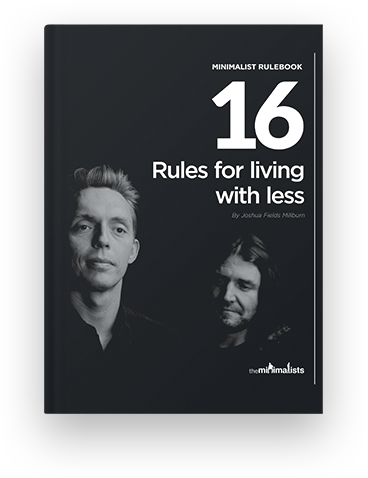 Free Ebook
Minimalist Rulebook
Sixteen rules for living with less. From our Photo-Scanning Rule to our Minimalist Gift-Giving Rule, this free ebook will help you simplify your life one rule at a time.
Subscribe to The Minimalists via
email
.